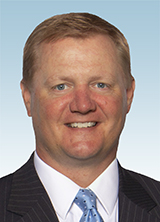 Charlotte, NC—Bill Ingram joined HomeTrust Bank as Senior Vice President, Commercial Relationship Manager. He holds responsibility for expanding the HomeTrust brand in the Charlotte and Lake Norman regions, as well as cultivating new relationships with small- to medium-size businesses for the bank.
"HomeTrust is based in North Carolina and our leadership team is local, so that gives us an advantage and an opportunity to be responsive, becoming a part of the fabric of the communities we serve," says Ingram. "My goal is to make sure businesses throughout our footprint are familiar with our brand, what sets us apart, and the capabilities we can provide to help them succeed."
Ingram was formerly a vice president, commercial banker with Regions Bank focused on commercial banking relationships in Charlotte. Prior to his tenure at Regions Bank, he was market president for Wells Fargo in Gaston and Cleveland counties, leading a team of business bankers where he was deeply involved in the community.
"Bill's knowledge of and expertise in the Charlotte financial market is a huge advantage to HomeTrust. Those skills combined with his gregarious community involvement make him a perfect fit for our team," says Jeff Mylton, Senior Vice President & Market President.
Ingram works from the bank's Cornelius office. He graduated with a BA from the University of Kentucky, majoring in finance and management, and earned his MBA at Thomas More University in 2003. He's also a graduate of Leadership Lake Norman. Ingram is married with two children and has lived in Lake Norman since 2012.
Ingram is a former Lake Norman United Way board member, and a board member and past chair of the Montcross Area Chamber of Commerce. He volunteers at the Mooresville Soup Kitchen and coaches a local travel baseball team in Mooresville.