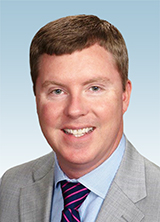 Asheville, NC —Brett Atkins has joined HomeTrust Bank as a Vice President and Small Business Administration (SBA) Relationship Manager. He is responsible for the SBA lending, business development, and relationship management across the US.
"I've noticed the great success HomeTrust Bank has had in developing a strong SBA Lending Division, says Atkins. "The commonsense approach and focus on growth are excellent, especially since there are so many businesses that need SBA loans and bankers dedicated to helping them through that process."
Atkins brings decades of financial expertise to HomeTrust, which include Wells Fargo and First National Bank of PA where he was responsible for SBA lending and building lasting relationships with clients.
"HomeTrust Bank is pleased to continue growing our SBA Lending Division with professionals like Brett," says Christopher McFatter, Senior Vice President and Director of SBA Lending. "Brett brings years of experience in SBA lending. His passion for helping small business owners achieve their dreams makes him a perfect fit for our team."
Atkins graduated with a B.A. in Business Administration from Application State University's Walker College of Business and from the School of Banking at the University of North Carolina at Chapel Hill. He is married with two children and is active with Christ Fellowship Church, the Boy Scouts of America, and Meals on Wheels.
About HomeTrust Bank
HomeTrust Bank, founded in 1926, is a North Carolina chartered, community-focused financial institution committed to providing value-added community banking through online/mobile channels and more than 40 locations in Southwest Virginia, North Carolina, Upstate South Carolina, and East Tennessee. The Bank is the 2nd largest community bank headquartered in North Carolina. As of June 30, 2020, the Company had assets of $3.7 billion. Learn more at www.htb.com.