ASHEVILLE, NC – HomeTrust Bancshares, Inc. (the "Company") (NASDAQ:HTBI), the holding company for HomeTrust Bank ("Bank"), has named W. Mark DeMarcus Executive Vice President and Commercial Banking Group Executive effective February 16, 2018.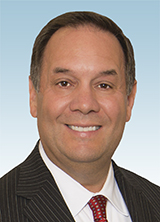 "HomeTrust Bank has a long history of serving the needs of individuals, businesses and communities. I am excited to join the HomeTrust team to lead our commercial banking segment," said Mark DeMarcus. "Our teams across the Carolinas, Virginia and East Tennessee have vast experience and capabilities. Building on this foundation to provide solutions to our commercial clients will be very rewarding.""Mark brings extensive experience in developing and leading commercial banking teams in our primary footprint in both large national banks and community banks," said Dana L. Stonestreet, Chairman, President and CEO. "He has a demonstrated history of building shareholder value, and leading teams that serve the credit, depository and treasury management needs of commercial businesses and commercial real estate developers. Mark's proven experience and leadership is a great addition to the significant talent that has joined HomeTrust in recent years which is driving our momentum to become a high performing regional community bank."
DeMarcus joins HomeTrust Bank with over 30 years of experience in building and managing teams across the Carolinas and Virginia. Most recently, he was Carolinas President at Atlantic Capital Bank. Prior to joining Atlantic Capital, he was Chief Operating Officer at Yadkin Bank where he was a key executive in the turnaround of the legacy Yadkin Bank. DeMarcus also had a successful 22-year career at the legacy Wachovia Bank with progressive responsibility in both strategy and execution. His roles included Regional President, Corporate Banking Manager, treasury sales and credit administration.
DeMarcus received his Bachelor of Science in Business Administration/Finance from University of North Carolina at Charlotte.