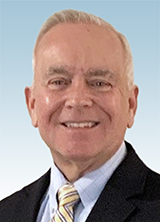 Cary, NC — Jeffrey Burgess joins HomeTrust Bank as an Assistant Vice President, Branch Manager and Business Banking Officer for Cary, NC. He is responsible for developing and building relationships with businesses within the Cary market, managing business lending, and helping his clients protect and grow their assets.
"I have worked in the banking industry for 30 years and have had the privilege to serve as the bank's advocate throughout my community," says Burgess. "I look forward to developing meaningful relationships with HomeTrust customers and helping them strengthen their assets. Through mutual faith, trust, and confidence my customers and I work in tandem, and I feel rewarded when I see my community and customers succeed."
Prior to HomeTrust Bank, Burgess served as the Branch Manager and Business Banking Team Leader at First Horizon Bank where he was responsible for managing the business sales and business development performance for four Cary locations. Before that, he worked for Capital One Bank as a Branch Manager for multiple locations in Maryland.
"Jeffrey is a huge asset to the Cary team because of his extensive 30-year background in banking, with a specialty in Business Banking, paired with his profound commitment to his clients," says says Latrella McElrath, Senior Vice President and Business Banking and Professional Banking Group Executive. "He provides a unique understanding of the Cary market and will be a strong advocate for HomeTrust though his substantial community connections. We're so lucky to have him and his long history of team leadership and support."
Burgess received his degree from Salisbury University. Additionally, he is happily married with twins in high school and two adult stepchildren. When he is not working, he enjoys traveling, specifically spending time at the beach. Volunteer work and community service are very important to Burgess and he serves as a volunteer for Dorcas Ministries' and Habitat for Humanity's Financial Literacy Program, serves as an Ambassador of the Cary Chamber of Commerce, and is a member of the Morrisville Chamber of Commerce. He also is a member of Cary First Baptist Church.