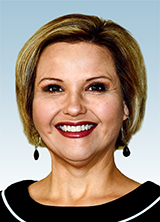 Johnson City, TN — Jennifer Mitchell joins HomeTrust Bank as a Vice President and Business Banking Officer for the Tri-Cities region. She is responsible for developing and building relationships with small businesses within the Tri-Cities market, being a trusted advisor to both clients and prospective clients by providing financial services tailored to specific business and industry needs and working with internal partners throughout HomeTrust Back to provide holistic financial solutions that help lead to maximized business efficiencies for clients.
"As a strong community bank, HomeTrust is well-positioned to serve our local community," says Mitchell. "I'm thrilled to join this team because it allows me to advocate for my clients that I'm personally and professionally invested in, by delivering financial solutions tailored to their unique business needs."
Prior to HomeTrust Bank, Mitchell served as a Vice President and Treasury Management Sales Officer at First Horizon Bank, providing cash management solutions to businesses and commercial clients. She was also previously part of the HomeTrust team as a Vice President and Business Banking Relationship Manager that focused on developing and retaining small to mid-sized businesses with depository and lending needs.
"We're thrilled to have Jennifer join our business banking team," says Latrella McElrath, Senior Vice President and Business Banking and Professional Banking Group Executive. "Her deep commitment to ensuring her clients receive the best financial options for their business needs is remarkable. Additionally, her understanding of the Tri-Cities region allows her to provide a unique perspective. That is paired with Jennifer's years of banking experiences that makes her a perfect fit. We're so happy to have her."
Mitchell received an MBA in Business Management from the University of Phoenix. Additionally, she is happily married with two dogs that she loves to enjoy nature with and travel. She also works diligently in her community by serving as the Board Chair for INSIGHT Training and Education Center, which is a local non-profit that supports STEM training for children with a focus on underserved populations. Additionally, she serves on the Board of the Appalachian Opportunity Fund, a local non-profit focused on nurturing individual financial health of those individuals that traditional banks are not designed to serve. Finally, she serves on the loan committee of the First Tennessee Development District that exists to foster economic development and growth within the region.