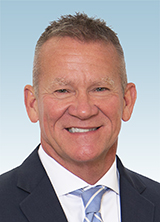 Knoxville, TN—Jimmy Millsaps recently joined HomeTrust Bank as a Vice President and Business Banking Officer. He holds responsibility for developing relationships and bringing in business banking and commercial loans, along with deposits and treasury opportunities. His work is primarily in the Knoxville market, but also includes Sevier County and Jefferson County.
"I believe HomeTrust is the right size and right fit bank to really take care of our customers and get things done," says Millsaps. "I want to continue to help customers grow and develop and I believe that will happen under the professionalism, talent, and leadership in this bank."
Millsaps was formerly a community bank president with First Tennessee Bank in Sevierville, TN. During his three-decade tenure there, he was the market leader for Sevier County, responsible for sales and operations and maintaining a commercial, business banking and private client portfolio. He was also a small business banking manager for the east region with First Tennessee Bank, managing all markets from Chattanooga to Bristol, TN.
"It is rare to find a professional banker with the depth of experience in managing all kinds of financial assets like Jimmy," says Trey Coleman, Senior Vice President & Regional Market President. "I am excited for the new relationships he will bring to HomeTrust and the ways in which we can help to creatively and effectively serve our customers with Jimmy on our team."
Millsaps works from the bank's Knoxville office located at 6501 Kingston Pike. He graduated from the University of Tennessee with a BS in Business Administration, and he is a huge fan of UT football and basketball. He enjoys spending time with his daughter, her husband, and two grandsons. Millsaps also loves boating, hanging out on the lake, and playing golf.
He volunteers his time as president of Safe Harbor Child Advocacy in Sevier County, and is a rotary member of Sevierville Noon and past president of Rotary Club of Morristown A.M. He's also a board member and past president of Spark/East Tennessee Technology Access Center in Knoxville.