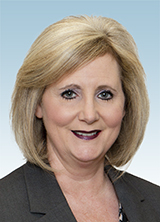 Arden, NC—Kelly Hannah joined HomeTrust Bank as an Assistant Vice President and Branch Manager in Arden and East Asheville. She is responsible for helping associates achieve their career aspirations through coaching and development, building deep and meaningful relationships with clients and prospects, and providing clients the solutions they need to achieve their financial goals.
"I joined HomeTrust Bank because I heard great things about the culture," says Hannah. "As a native of Western North Carolina, I take pride in knowing HomeTrust is headquartered here. Banking has been my life-long profession, and I'm passionate about helping my clients reach their financial goals while helping develop a team ready to build deep and meaningful client relationships."
Hannah has over 30 years of banking and leadership experience. Previously, she served as a Senior Vice President and Manager of Retail Banking at First Citizens Bank where she led a group of ten branches in meeting their financial objectives and ensuring alignment with the Bank's competitive path. Before that, she served as a Vice President and Business Banker also at First Citizens Bank.
"Kelly's 30 years in the banking industry plus her strong coaching skills are a huge asset to the Arden and East Asheville teams as we continually focus on ways to serve our customers and community better," says Dana Dalton, Vice President & Retail Market Leader. "I look forward to working closely with her as she develops her team, builds customer relationships, and continues to make HomeTrust an even better place to bank."
Hannah is a graduate of the University of North Carolina Asheville. She is married, has one son and two miniature schnauzers. When she is not working, she enjoys spending time with her family and dogs, preferably at the lake, which is her favorite destination.
Hannah volunteers her time as a Board Member at the American Red Cross and coordinator of the Day of Caring for United Way of Asheville & Buncombe County and Eblen Charities.