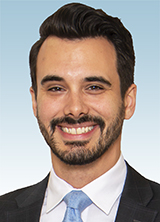 Asheville, NC—Kyle Crandell joins HomeTrust Bank as a Treasury Services Support Specialist. He is responsible for onboarding new Treasury Management customers by providing product recommendations and personalized training; opening new deposit accounts for HomeTrust's Commercial Banking clients; and ensuring that bank compliance requirements are met for new accounts and relationships.
"My past positions have been with organizations that desire to provide excellent client service above all else, and HomeTrust Bank has a reputation of doing just that," says Crandell.  "From my first conversation with HomeTrust leadership, I knew this was the place I wanted to be because of the incredible culture and dedication to the community. I look forward to working with our business customers and helping them reach their financial goals."
Prior to his position at HomeTrust, Crandell worked with Campus USA Credit Union in Gainesville, FL as a call center agent. He also served as an assistant manager at Regions Bank in Ocala, FL where his primary responsibility was working with retail and small business customers with deposits and loans.
"Kyle is a great addition to our Treasury Services Support team.  His attention to detail and ability to think outside the box ensures that the Treasury integration process is seamless," says Whitney Riddle, Banking Officer, Treasury Services Support Specialist II. "His unique perspective and market experience will allow our team to create and execute new methods to better serve the needs of our clients."
Crandell is a graduate of New College of Florida with a Bachelor of Arts in Economics.  When he's not working, you will find him traveling to theme parks throughout the country and hiking in the Blue Ridge Mountains with his wife.