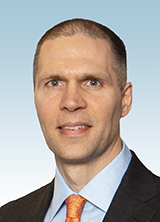 Charlotte, NC—Mike Paradis joins HomeTrust Bank as Vice President and Treasury Services Sales Officer. He holds responsibility for collaborating with clients and prospective clients to help them streamline their banking processes, reduce fraud risks, and manage working capital; to expand existing business through client reviews and visits; and work with relationship managers to develop business.
"While often similar in product offerings, commercial banks vary in how they make themselves available to clients and prospective clients," says Paradis.  "In terms of coverage, structure and approach, HomeTrust Bank is well-positioned to make banking easier for clients while also helping them achieve success. I'm excited to work for an institution that values a creative, hands-on approach and consciously aims to deliver personalized service and expert advice."
Prior to his position at HomeTrust, Paradis was a Payment Solutions Consultant for BB&T, where his primary responsibility was helping businesses streamline their banking processes, prevent fraud and improve their working capital position. He also worked at First Citizens Bank.
"Paradis' 20 years of treasury management experience along with his thoughtful and detailed approach to client needs are a huge asset to HomeTrust," says Stephanie Barbier, Senior Vice President, Director of Treasury Services. "His unique perspective and market experience will allow our team to create and execute new methods to better serve the needs of our clients."
Paradis is a graduate of Clemson University with a Bachelor of Science in Economics.  When he's not working, you will find him playing the bass guitar as a part time musician, writing, or spending time with his son.