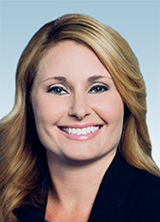 Daleville, VA — Nancy Brubaker joins HomeTrust Bank as an Assistant Vice President and Branch Manager in Daleville, VA.  She is responsible for day-to-day branch operations, including coaching and developing the retail team; deepening and growing client relationships; and expanding new business opportunities.
"As a community bank, I was drawn to HomeTrust's emphasis on helping the needs of individuals and businesses while also supporting our community," says Brubaker. "I am honored to be a member of such an amazing team. In my 27 years of banking experience, it has been rewarding to grow and deepen relationships with clients and help them reach their financial goals, and I look forward to continuing that at HomeTrust."
Brubaker brings decades of banking experience to HomeTrust Bank. Her most recent position was serving as a Branch Manager for First Community Bank where she managed day-to-day operations.
"Nancy's extensive background in banking paired with her passion for the Daleville community, make her a great fit for our team," says Jeff Lozowski, Vice President and Retail Market Leader. "Her focus on community outreach will support our continued growth in Virginia, and I look forward to working with her as she continues to build a team that's focused on helping our clients reach their financial goals."
Brubaker is a proud mother of two children. When she is away from work, she enjoys spending time with her family and friends while being an active volunteer in her church and community. Throughout her career, she has volunteered with Junior Achievement, Meals on Wheels, and teaching financial literacy classes at schools and churches in her community.