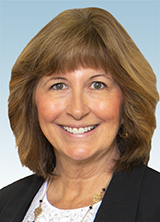 Asheville, NC—Nancy Daley joins HomeTrust Bank as an Assistant Vice President and Branch Manager. She holds responsibility for providing a great customer experience for new and existing customers, managing a team of employees to help them grow in their profession, and sharing HomeTrust's vision and values with the community of businesses and clients.
"I have always valued coming away from a meeting with a professional in any field and feeling as though that person truly cared about me and my success.  HomeTrust embodies this experience with both their customers and their employees," says Daley.  "It is a privilege to join this team and I look forward to sharing my prior banking and business skills with the team and our customers."
Prior to her new job at HomeTrust, Daley was a small business banking officer and assistant vice president with BB&T. Earlier in her career at BB&T she was a financial wellness consultant, sharing the company's financial wellness program with business owners and their employees.
"Nancy's depth of expertise in both the banking industry and as a successful small business owner means that she can provide helpful support for our customers and the many banking needs they have," says Dana Dalton, Vice President & Asheville Retail Market Leader. "Her enthusiasm and gracious spirit already have made a positive impact with employees and customers."
Daley has many years of both small business and banking experience, and education and training in real estate, finance, and customer service. She is married and has three dogs, and loves being outdoors hiking, gardening, and exploring nature. When she's not working, she volunteers her time with the Humane Society, United Way, American Heart Association, and Alzheimer's Association.