Welcome to Commercial Center!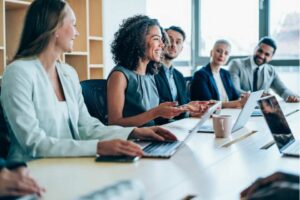 Quantum National Bank business customers who utilize Treasury Management services (ACH, Wire, Remote Deposit Capture, or Positive Pay) will be upgraded to a new and enhanced business online banking platform, Commercial Center. All other companies are being upgraded to Business Center.
This provides your business several improvements, including:
Enhanced security features to better protect you and your information
A modern, user-friendly design on our website and mobile applications
More capabilities to manage your own profile and settings
If you are the company administrator, you will now be able to create, modify, and delete your employees' profiles and their permissions
We know you may have questions, so we've included our Frequently Asked Questions below and video demonstrations of important Commercial Center functions. Our goal is to make this change as seamless as possible for you.
First-Time Log In
You and your team are able to log in to Commercial Center. To ensure this first time login is as smooth as possible, we've created a step-by-step guide to help. Check it out here.
Commercial Center FAQ's
Will I need to download a new app?
Yes, you will need to download and install the HomeTrust Bank Business Mobile app available on the Apple App Store and Google Play Store after you have logged in to Commercial Center.
How do I download the Secure Browser?
For step-by-step instructions on downloading and installing the secure browser used in Commercial Center, click here.
How do I register my token?
You will no longer need your token in Commercial Center. Instead, our secure browser uses an out-of-band PIN code to provide multi-layered protection against malware, keylogging, malicious code, and compromised credentials. For step-by-step instructions on how to create your PIN, visit the First-Time Login instructions for Commercial Center.
How do I send wire transfers?
How do I send ACH transfers?
What will happen to my ACH and Wire transfer templates?
Your ACH and Wire templates will carry over into Commercial Center, including any changes made up until 5:00 p.m. on Friday, March 10. Any changes made after that time will need to be re-created in Commercial Center.
Will my pending or scheduled transfers still process?
All pending one-time ACH, Wire, and Internal transfers scheduled in Quantum Cash Management Online System to process during the week of March 6 – March 10 will occur as scheduled. Recurring ACH, Wire, or Internal transfers will need to be re-created in Commercial Center.
Will Recurring Transfers continue on-schedule?
If a template was used to create the recurring transfer, you will see the saved template in Commercial Center. However, recurring transactions created after March 10 will need to be recreated in Commercial Center.
Will I need to re-enroll in eStatements?
First time that you attempt to access eStatements in Commercial Center you will need to enroll and verify that you can access PDF documents and accept the terms and conditions. Download the eStatement enrollment guide for Commercial Center here.
Your Bill Pay profile and billers will carry over into Commercial Center.
What should I know about Positive Pay?
No maintenance is needed! Your positive pay files and outstanding checks have been securely moved to your new Positive Pay system. You can access your Positive Pay by logging into the secure browser. You will find Positive Pay located on the Secured Apps Page after logging into the Commercial Center Secure Browser. Click this link for a Quick Reference Guide to access and use Positive Pay.
To ensure email delivery of your Positive Pay notifications prior to the decisioning time of 11:00am, please whitelist this IP address ip4:192.0.48.0/20.
What should I know about Remote Deposit Capture?
Will I need to reconnect my QuickBooks?
Yes, you will need to enter your new online banking credentials to reconnect your Web Connect QuickBooks profile. To start the process, please email [email protected] Direct Connect will not be available at this time.
Will my Merchant Services change?
No- you can continue using your Merchant Service provider. However, we are happy to introduce you to our HomeTrust Bank provider. Please email [email protected] and a Merchant Service representative will be in contact with you!
How do I request a limit increase?
Your company's Online Banking Senior Administrator would email [email protected]. Your request should include your company name, the service (ACH, Wire, RDC) and the desired limit.
Where can I find the Terms and Conditions for Commercial Center?
You may download a PDF copy of the Commercial Center Terms and Conditions here.
Video Tutorials
To prepare you for the switch to Commercial Center, watch the overview videos and tutorials of common Commercial Center activities below.
Commercial Center Overview
Secure Browser
Wire Transfers
ACH Payments
---
Our Customer Care Center is ready to assist you with any questions you have about the conversion to Commercial Center. They can be reached by phone at 800.627.1632, option 6, Monday – Friday 8:00 a.m. to 7:00 p.m. or Saturday from 9:00 a.m. to 3:00 p.m.
You may also use the form below to contact our Customer Care Center with questions.