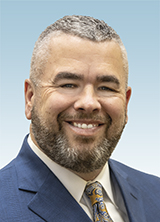 Roanoke, VA — Scott A. Jenkins joins HomeTrust Bank as Vice President and Senior Business Banking Officer. He is responsible for coaching and mentoring business bankers and business banking branch managers, managing business development of C&I business of up to $10 million in sales, and developing and nurturing partnerships across HomeTrust Bank.
"Community banks represent the true fabric of business banking in our respective markets," says Jenkins. "HomeTrust has provided me the opportunity to help build and develop small businesses in the Roanoke Valley. I love working with small businesses and strive to be their advocate and partner by providing the financial expertise they need to successfully grow."
Jenkins brings a wealth of experience to his new position. Prior to HomeTrust, he served in commercial and business banking at Atlantic Union Bank in the Roanoke Valley Market. His primary responsibilities included portfolio management of a $40 million plus portfolio, business development in overall loan and deposit production, and community involvement in the Roanoke Valley.
"We're excited to have Scott joining our business banking team," says Latrella McElrath, Senior Vice President and Business Banking and Professional Banking Group Executive. "His experience in commercial and business banking in the Roanoke Valley is paramount to our success, and we look forward to utilizing his deep knowledge and understanding of this region."
Scott received a Bachelor of Science degree in Business Administration from Longwood College. Additionally, he has been married for 26 years and has three daughters and three dogs. Scott has served on the Board of Directors at the Boys and Girls Club of Southwest Virginia for 14 years; he is also on the board for the Roanoke Valley Youth Soccer Association while coaching travel soccer for 10 years and serves as the head coach of the women's soccer team at Northside High School. He will be based on the Roanoke area.