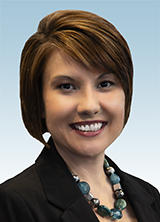 Roanoke, VA—Stephanie Cunningham has been promoted to Branch Manager, HomeTrust Bank at the branch at 316 South Jefferson Street. Cunningham's new responsibilities include building long-term banking relationships, fostering branch performance, and ensuring exceptional customer service.
Cunningham launched her banking career twelve years ago with SunTrust Bank. She joined HomeTrust Bank Roanoke, VA as Sales and Service Associate in 2016. "Stephanie has worked diligently and demonstrated an impressive instinct for taking care of customers," said Jeff Lozowski, Retail Market Leader, HomeTrust Bank Roanoke, VA. "At HomeTrust we take pride in developing our people and it is a pleasure to watch Stephanie advance."
Born and raised in Roanoke, Cunningham appreciates that HomeTrust cares about the community. "HomeTrust stays on top of the ever-growing financial industry and we know how to help our clients achieve their financial objectives," Cunningham stated. "At the same time, we stay close to the individuals and communities we serve."
Cunningham has been married for 14 wonderful years. She resides in her native Roanoke with her husband and their two beautiful children.  Their son is 9 and their daughter is 6.