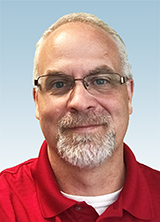 Lexington, NC — Steve Stillings joins HomeTrust Bank as an Assistant Vice President and Branch Manager in Lexington, NC.  He is responsible for coaching and developing the retail team and managing the day-to-day operations.
"I'm proud to work for a community bank where we treat customers like the neighbors they are while offering everything they can get from a big bank," says Stillings. "Seeing how the HomeTrust branch staff work together made me want to join this team. With my passion for coaching and developing teams, I look forward to growing our staff individual capabilities and deepening client relationships."
Prior to HomeTrust Bank, Stillings worked as an Assistant Vice President and Branch Manager at SunTrust Bank for five years. Before that, he was a Business Banker at Wells Fargo.
"Steve's strong leadership skills paired with his years of banking experience, make him a huge asset to the HomeTrust family," says Bridget French, Vice President and Retail Market Leader. "His focus on each client and his dedication for his community creates a wonderful environment for this team. I look forward to working closely with Steve as he develops and coaches a team centered on our client's financial success."
Stillings graduated with a bachelor's degree from Catawba College. He is married with three children. When Stillings is away from work, he enjoys taking his RV from the beach to the mountains. He is also a member of Journey United Methodist Church where he chairs the finance committee.