Fire Service
United Financial, a division of HomeTrust Bank, has over 30 years of experience in providing funding to support the fire service, and provides funding for the purchase or refinance of Apparatus, Equipment and Facilities for fire departments.
We offer terms to meet budgetary constraints, and fast approval and funding to meet departmental purchasing timetables.
New Fire Truck acquisition
Pre-owned Fire Truck acquisition
Refurbish Fire Trucks and Equipment
Refinance of existing debt on Fire Trucks, Equipment and Stations
Our process is designed to fit your delivery timetable and budgetary constraints.
We consider your current and projected cash flows as well as future apparatus, equipment, and facility needs. Our goal is to provide financing that accelerates your ability to purchase the apparatus, equipment or facilities you need when you need it.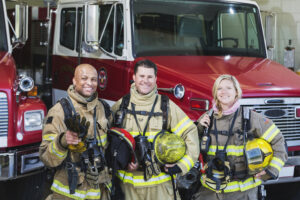 We have proudly served over 1,000 clients over the past 30 years.
References are available from fellow Fire Chiefs to support our reputation of supporting the fire service.
Contact us & let us tailor a finance package that works the way you want it to work.
We will come to you so you will know your financing partner in person as well as your financing documents.
We provide financing directly to you.
Questions and Answers
How Does the United Financial finance program work?
There are just "Three Primary Steps" to enable you to gain financing for the Essential Use Asset you need.
Step 1: Complete our Online Customer Profile form and submit your financial information*
Step 2: Meet with us at your location to sign the finance documents.
Step 3:  Send us an invoice when it is time to pay for your purchase.
*We are also available to meet with you in-person to explain our process and to collect the information needed.
Contact us today to get started!
How can we save you money?
We are a direct lender; the transaction is between your department and us.
We emphasize tax-exempt funding and pass these savings on to you.
You also receive additional savings from our tightly controlled overhead costs.
We do not charge any direct bank origination fees.
Is my interest rate fixed for the entire term of the loan?
Yes, on amortization up to 15 years.
What if we finance longer than 15 years if our budget requires a lower payment?
Extended amortizations up to 20 and 25 years are available depending on the useful life of the item being financed.
The rate is fixed for the first ten-year period. After the first ten years, there are rate adjustments at five-year intervals.
Call us for further explanation of extended term products.
What can be financed by United Financial?
We finance new and used fire apparatus and equipment, as well as new fire stations/sub-stations and station improvements.
We will refinance essential use assets and facilities.
We will make every attempt to support your department needs, however, our preference is to finance a minimum of $25,000 up to a maximum of $10,000,000.
Call us to discuss your needs, we will consider requests that are either above or below our loan amount guidelines.
What financial information do I need to provide?
Your organizational documents.
Names of who is authorized to sign documents.
Customer Profile
Most current three years of fiscal year-end financial information.
We can help you prepare a balance sheet if you do not have one.
Ready to Start?