HomeTrust Bank. We are…

People who live in your neighborhoods. People who care deeply about your community.
A business built on integrity and trust nurtured through long-term relationships. The integrity of a handshake conveying a promise and a commitment.
Bricks and mortar, with locations throughout Georgia, North Carolina, East Tennessee, Upstate South Carolina, and Southwest Virginia.
A regional community bank positioned for smart growth—dedicated to maintaining the core values and culture that reflect our brand—and committed to solid, long-term value for all our stakeholders.
Ready for what's next….
We believe that strong relationships lead to great things. Our bankers strive every day to work with individuals and businesses to help them prepare for what's next in their financial future. Whether saving for a house, planning for college, or growing a business, our commitment to excellent personal service builds long-standing relationships. Working with multiple generations within a family or business is just one way we can accomplish something great together with our customers.
The three upward pointing arrows or rooftop graphics in our logo reflect our promise to our most important priorities—individuals, businesses, and community. They are all connected and integrated, reflecting what our customers tell us; they want a bank that can manage all their needs while giving back to the community.
Our name, HomeTrust, is in keeping with our roots as a personal bank, but home means many things—community, a place to live, and a place to do business.
What we value
Our core values include personal responsibility, ethical behavior, trust and integrity, teamwork, and caring. We strive to make positive choices, to practice what we preach, to be direct and honest, and to create an environment that allows everyone to exceed their potential while working as a team. Treating people with the same care we want for ourselves is an integral part of all these values.
Founded in 1926, HomeTrust Bank is headquartered in the vibrant, eclectic mountain city of Asheville, NC. We are a community-focused financial institution committed to providing value added relationship banking through our talented, service- focused people.
---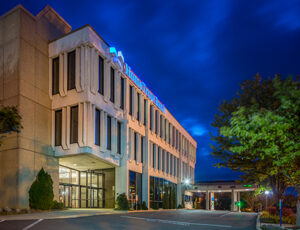 HomeTrust Bancshares, Inc. is the holding company for HomeTrust Bank. As of June 30, 2023, the Company had assets of $4.6 billion. The Bank, founded in 1926, is a North Carolina state chartered, community-focused financial institution committed to providing value added relationship banking through over 30 locations as well as online/mobile channels. Locations include: North Carolina (including the Asheville metropolitan area, the "Piedmont" region, Charlotte, and Raleigh/Cary), Upstate South Carolina (Greenville), East Tennessee (including Kingsport/Johnson City, Knoxville, and Morristown) Southwest Virginia (including the Roanoke Valley) and Georgia (Greater Atlanta).
Photo:  HomeTrust Bank Corporate Headquarters, Asheville NC.