Online Bill Pay
Pay Bills easily from your computer or mobile device
Paying personal bills online saves time and money, and it's the most convenient way to manage all your bills.
Online Bill Pay lets you:
Use your checking account to pay bills from your computer or mobile device: utility payments, credit cards, loans, and more.
Take a picture of your bill and pay instantly with our Bill Capture feature from your iPhone® or Android™ smartphone!
Receive ebills instead of paper bills for participating billers.
Make one-time payments or schedule automatic payments of mortgages and other recurring bills.
See your bill history and all pending electronic bill payments at a glance.
Receive reminders that help you pay on time, every time.
Get answers to questions through our secure Message Center.
Watch our video tutorial here: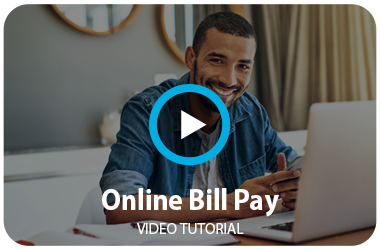 Need help with Online Bill Pay?
Whether you have questions about Pay Bills, Pay People, or any of our other Online Banking services, contact our Customer Care Center toll free at 800.627.1632 Monday – Friday from 8:00 a.m. to 7:00 p.m., Saturday 9:00 a.m. to 3:00 p.m. You may also contact us by sending us a secure message from Online Banking. Or, if you prefer, you can send us an email.
iPhone is a registered trademark of Apple Inc. Android is a registered trademark of Google, Inc.