In celebration of the HomeTrust Bank 90th anniversary, the bank is continuing its commitment to the communities it serves by investing in local organizations.
Through the 90k for 90th campaign, HomeTrust has donated $90,000 during the month of May to community organizations that assist with affordable housing, financial literacy, community enrichment, and culture.
The public assisted in the selection process by voting on the HomeTrust Bank Facebook page to determine the distribution of the $90k in gifts across North Carolina, South Carolina, Tennessee, and Virginia.
The community has spoken, and these are the winners for the 90k for 90th Community Support contest: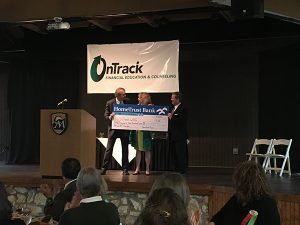 NC | Buncombe/Hendersonville
1st Place: OnTrack WNC: Financial Education & Counseling
2nd Place: Big Brothers Big Sisters of WNC
3rd Place: Asheville Area Habitat for Humanity
HomeTrust Bank CEO, Dana Stonestreet, presents the check for first place in Buncombe County to OnTrack WNC at their Financial Literacy Luncheon.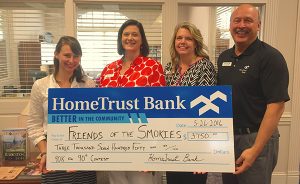 NC | Haywood
1st Place: Friends of the Smokies
2nd Place: Haywood County Schools Foundation
3rd Place: Haywood Habitat for Humanity
Anna Zanetti, North Carolina Director of Friends of Great Smoky Mountains National Park, accepts the first place check in Haywood County from HomeTrust Bank employees Bria Davis, Tina Ramsey and Jim Darby.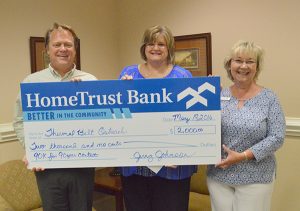 NC | Polk County
1st Place: Thermal Belt Outreach Ministry
2nd Place: Hospice of the Carolina Foothills
3rd Place: Steps to HOPE
HomeTrust Bank Branch Managers, Sonja Laughter and Peggy Orr present George Alley, Executive Director of Thermal Belt Outreach with the first place check in Polk County.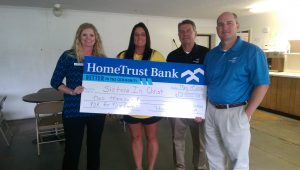 NC | Rutherford County
1st Place: Sisters in Christ Restoration & Recovery
2nd Place: Rutherford County Backpack Program
3rd Place: Community Pet Center
HomeTrust Bank team members, Melissa Thompson, Jerry Johnson, and Jeff Condrey, present Debbie Smith from the Sisters in Christ shelter with the winning check for Rutherford County.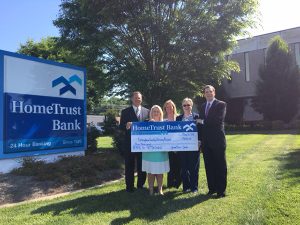 NC | Rockingham County
1st Place: Rockingham County Literacy Project
2nd Place: United Way of Rockingham County
3rd Place: Habitat for Humanity-Rockingham County
HomeTrust Bank team members Bridget French, and Johnathan Jobe present Rockingham County Literacy Project with the first place check in Rockingham County.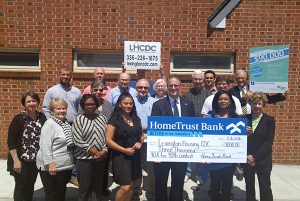 NC | Davidson County
1st Place: Lexington Housing Community Development
2nd Place: Workshop of Davidson
3rd Place: Lexington Area Habitat for Humanity
Market President, Bob Callicutt presents the board of directors of Lexington Housing Community Development Corporation, with the winning check for Davidson County. 
NC | Charlotte
1st Place: Lifespan: Abilities Illuminated
2nd Place: Humane Society of Charlotte
3rd Place: Pat's Place, Child Advocacy Center
NC | Cleveland & Gaston County
1st Place: Cherryville High School Education Foundation
2nd Place: Cleveland County Community Development Corporation
3rd Place: Cleveland County Animal Shelter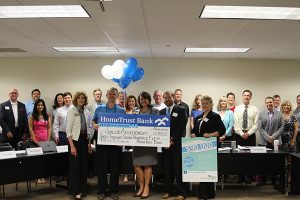 SC | Greenville
1st Place: Junior Achievement of Upstate South Carolina
2nd Place: Upstate Warrior Solution
3rd Place: Homes of Hope
HomeTrust Bank Branch Manager, Lydia Shirley presented the Greenville region first place check to the staff and board of directors of Junior Achievement of Upstate SC .
TN | Morristown
1st Place: Morristown Hamblen Humane Society
2nd Place: All Saints Episcopal School
3rd Place: Rose Center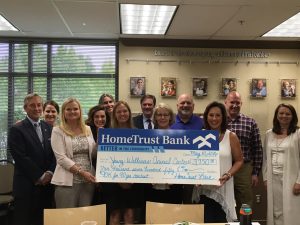 TN | Knoxville
1st Place: Young-Williams Animal Center
2nd Place: The Joy of Music School
3rd Place: Emerald Youth Foundation
HomeTrust team members Kelly Vittatoe and Trey Coleman present the first place prize in the Knoxville region to the board of Young-Williams Animal Center during their monthly meeting.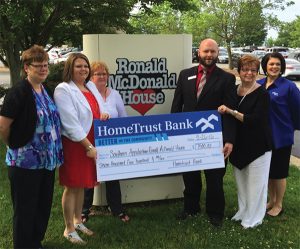 TN | Tri-Cities
1st Place: Southern Appalachian Ronald McDonald House
2nd Place: Washington and Sullivan County Animal Shelters
3rd Place: Eastern Eight Community Development Corp.
The Southern Appalachian Ronald McDonald House was presented with the top prize of $7500 in the Tri-Cities region by HomeTrust Branch Managers, Tanya Tisor and Kort Boring.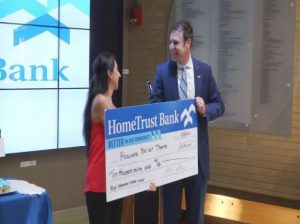 VA | Roanoke
1st Place: Roanoke Ballet Theatre
2nd Place: Science Museum of Western Virginia
Participation Awards:
Roanoke Symphony Orchestra
History Museum of Western Virginia
Roanoke Pinball Museum
Harrison Museum of African American Culture
Mill Mountain Theatre
O. Winston Link Museum
Opera Roanoke
Adam Shores, Virginia Market President, presented a check to Roanoke Ballet Theatre for winning first place in the Roanoke region.