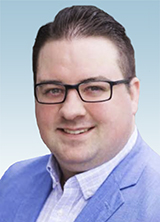 Greenville, SC — Adam Witter joins HomeTrust Bank as an Assistant Vice President, Business Banking Officer and Branch Manager for the Woodruff Rd. and Pelham Rd.  branches in Greenville, SC. He is responsible for business development, commercial lending, and strategic banking consultation to business owners.
"After years of working for very large financial institutions, I welcomed the opportunity to join a robust community bank," says Witter. "Having the flexibility and nimbleness of a true community focused bank is the differentiating factor that sets HomeTrust apart from other financial institutions. Knowing that we are large enough to handle the most complex customer needs, yet community focused enough to truly know and understand our customers on a personal level is empowering, which allows us to provide a superior level of customer service."
Prior to joining HomeTrust Bank, Witter worked as a Senior Business Relationship Manager for Wells Fargo, where he served the Greenville and Clemson, SC markets for 10 years.
"Adam is a fantastic addition to our business banking team," says Latrella McElrath, Senior Vice President, Business Banking and Professional Banking Group Executive. "He comes to HomeTrust with a wealth of knowledge about Upstate South Carolina and how to better serve the customers here. I look forward to working closely with him as we continue to strengthen community ties and provide excellent service to our business banking customers."
Witter received his bachelor's degree from Grace Baptist College.  Furthermore, he is happily married with two children. Witter is also very active in the Greenville community and volunteers with the Greenville Chamber of Commerce and Leadership Greenville. Witter is based at our location at 499 Woodruff Rd.