Asheville, NC – On September 7th, Asheville City Schools (ACS) held its annual Teacher of the Year Recognition Dinner. At the dinner, each of the nine Teachers of the Year from each of the ACS were recognized for their extraordinary work and achievements. They are: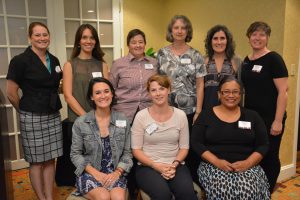 Asheville City Preschool: Lynn Bennett
Asheville High School: Holly Sutter
Asheville Middle School:  Katie Dalton
Claxton Elementary: Penny Tax
Dickson Elementary: Leslie Blaich
Hall Fletcher Elementary: Sarah Gillespie
Jones Elementary: Jennifer Warren
SILSA: Ariel Robinson
Vance Elementary: Norma Hawes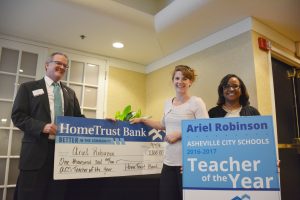 At the end of the evening, Ariel Robinson, an English teacher from SILSA (School of Inquiry and Life Science at Asheville) was announced as the ACS Teacher of the Year. This honor also came with a $1,000 check from HomeTrust Bank and an iPad from her school.
Ariel Robinson received her bachelor's degree from UNCA and her master's from Western Carolina University.  She has worked as a teacher for eight years, but spent the last three making a mark at SILSA.
Congratulations to Ariel and all of the other teachers who mentor and encourage children in our community.