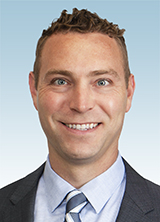 Asheville, NC – Colin Houlihan joins HomeTrust Bank as Senior Vice President and Director of Financial Planning and Analysis. He is responsible for leading the financial budget and forecasting process and analyzing key business lines to help identify new and creative strategic opportunities.
"I am excited to join the fantastic team at HomeTrust Bank," says Houlihan. "HomeTrust's growth is compelling, and I look forward to providing innovative solutions to help continue our evolution into one of the leading regional community banks."
Houlihan brings a wealth of experience to his new position. Prior to HomeTrust, he served as the Vice President of Financial Management for Two Harbors Investment Corporation in Minneapolis, MN where he created the budgeting and forecasting processes, developed executive reporting material, and provided key analysis for various M&A transactions. Additionally, he served as the Vice President of Financial Management for Granite Pointe Mortgage in New York, NY, and Senior Financial Analyst with TCF Bank in Minneapolis, MN.
"We're excited to have Colin joining our accounting and finance team," says Tony VunCannon, Executive Vice President, Chief Financial Officer and Treasurer. "His experience in financial planning and analysis at larger financial service companies are key as we continue to build our various lines of business to achieve our net income growth goals."
Houlihan will work from HomeTrust's downtown Asheville location. He received a Bachelor of Science degree in Finance from St. Cloud State University in St. Cloud, MN.