HomeTrust is proud to once again be sponsoring Fun Fest in Kingsport, TN. Founded in 1981, this community event's objective is "to promote unity, harmony, fellowship and cooperation among people in the greater Kingsport Area."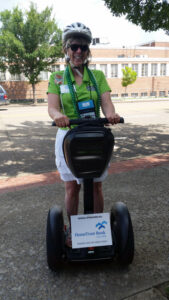 This week long event also provides a great place to participate in a variety of sporting events, see some beautiful hot air balloons, listen to hit bands like The Fray, and eat amazing regional food at The Taste.
While wandering around the Kingsport Fun Fest, be sure to wave to all of the amazing volunteers on the HomeTrust Bank Segways!
Learn more about this event on the Fun Fest website.