Raleigh, N.C., Oct. 25, 2021 – HomeTrust Bank (HTB) opened its newest business center in Raleigh, NC at 4700 Six Forks Road, Suite 100, to continue its expansion in the Triangle.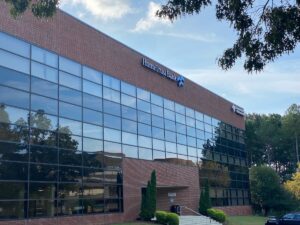 Plans to develop a new business center were initiated by the Triangle's continued growth as one of the top markets in the country. The new location, which includes commercial, retail, and mortgage bankers, will focus on providing resources to business of all sizes coupled with traditional retail services. HomeTrust also has locations in Cary and a loan production facility in downtown Raleigh.
"The opening of our business center in Raleigh is an important step toward our continued transition to a full-service commercial bank with strong products for businesses of all sizes," says Susan Puryear, Senior Vice President, Business Banking and Private Client Group Executive. "We're excited about our strong business banking team that's focused on providing our clients with a personal experience centered on their unique financial needs."
Joe Ambrosino will lead the business banking team as the Business Banking Officer and Branch Manager. He brings with him a wealth of experience in the Triangle as a former business development officer at Wells Fargo Bank. Ambrosino will also oversee retail branch operations.
HomeTrust will celebrate with a grand opening at its new location on Thursday, November 4 from 10:00am to 2:00pm and a ribbon cutting ceremony at 11:00am. There will be lunch, games, and complimentary gifts for visitors.