Lexington Housing Community Development Corporation hosted the 10th biennial Group Work Camp. On July 7th, 186 youth volunteers from all over the country came together in Davidson County to repair the homes of elderly, disabled and other low-income families in the community.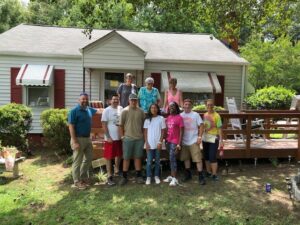 Every two years, Lexington Housing CDC, through their funds from United Way, partners with Group Mission Trips to mend the homes of local families in need. Group Work Camp helps people in crucial need of home maintenance who may not meet all requirements of the urgent repair program grant.
For the 10th anniversary, the team repaired and made handicap accessibility modifications to 29 homes throughout Lexington, Thomasville and the Davidson County area. "Some of the jobs completed include ramps, hand-rails, sheetrock repairs, deck/porch repairs along with scraping, caulking and repainting some homes," said Toby Prince, Executive Director of Lexington Housing CDC. "Not only did these kids volunteer a week of their summer to complete home repairs, they also brought in more than 800 school supplies that were donated to Communities in Schools of Lexington/Davidson County and Communities in Schools of Thomasville."
Volunteers from HomeTrust Bank hand delivered cold drinks and "Sunshine" goody bags to the young workers and crew who racked up 5,580 volunteer hours in the sweltering summer heat. "These kids are inspirational," said Kathy Shoaf, Lexington Branch Manager, HomeTrust Bank. "They pay their own way to travel here. Then, they spend a week improving the homes of our neighbors in need."
HomeTrust also made a significant donation of $7,500. "Donations like this allow our agency to continue offering our programs and services on a no charge basis," Prince said. "It's very important to have partnerships with businesses like HomeTrust Bank that truly impact the residents in our community."
The week concluded with a celebration that was attended by contributing organizations, the young volunteers and the homeowners who received the repair services. "The homeowners and the volunteers described what the program means to them and its impact," said Shoaf. "Everyone came away cognizant of the positive difference individuals can make in the lives of others and grateful to have been part of the powerful experience."
About Lexington Housing Community Development Corporation
Lexington Housing Community Development Corporation is a 501© (3) Non-Profit Agency certified by the United States Department of Housing and Urban Development (HUD) to provide Housing Counseling.  The mission of the agency: To educate, enable, and affirm individuals and families to achieve homeownership, to develop new affordable housing and improve existing housing in the greater Lexington community. Our slogan is "Improving Lives in Davidson County, One Nail at a Time:" Lexington Housing Community Development Corporation was incorporated in 1998 to help individuals and families overcome the obstacles to achieve homeownership. Program areas include Homeownership & Housing Counseling, Homebuyer Education & Financial Literacy (English & Spanish), Existing Owner Home Repair, Development of Affordable Housing / Community Revitalization; and the Thomasville Housing Assistance Program. LHCDC has offices located in Lexington and Thomasville.