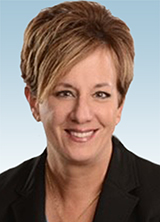 Shelby, NC — Jean McMullin joins HomeTrust Bank as an Assistant Vice President and Infinex Financial Group as a Registered Representative that will cover the North Carolina territories of Charlotte, Shelby, Forest City, Columbus, and Tryon. She is responsible for cultivating and building lasting client relationships by providing customized investment and financial solutions along with advice.
"This relationship feels like family," says McMullin. "I look forward to working with financial institutions focused on client needs first and foremost. This allows me to successfully advise my clients about how to reach their unique financial goals."
Prior to her new role, McMullin was a Premier and Private Banker at Wells Fargo as well as a Wells Fargo Affluent Sales Coach.
"Jean is a huge asset to the Investment Services team," says Susan Puryear, Vice President and Director of Professional Banking and Investment Services at HomeTrust Bank. "Her ability to understand the financial needs of each individual client combined with her positive, can-do attitude makes her a pleasure to work with for both her colleagues and clients."
McMullin will be based in HomeTrust's Shelby location. She graduated from Gardner Webb University with a degree in Business Administration. She has two children and is expecting her first grandchild. McMullin is part of a Masters Swim Team in Valdese, NC and also enjoys numerous outdoor activities including fishing, camping, hiking, cycling, and participating sprint triathlons.
About Infinex Financial Group
In 2018, Infinex celebrated its 25th anniversary as an independent broker/dealer focused on serving the investment, insurance and wealth management needs of financial institutions. Currently, Infinex supports over 230 community-based programs and more than 800 representatives. The firm, headquartered in Meriden, Conn., with offices in Napa, Calif., and Midlothian, Va., has a unique history of being formed by financial institutions and owned by financial institutions. To learn more about Infinex Financial group, visit www.infinexgroup.com
Investment and insurance products and services are offered through INFINEX INVESTMENTS, INC. Member FINRA/SIPC. HomeTrust Investment Services is a trade name of HomeTrust Bank. Infinex and HomeTrust are not affiliated. Products and services made available through Infinex are not insured by the FDIC or any other agency of the United States and are not deposits or obligations of guaranteed or insured by any bank or bank affiliate. These products are subject to investment risk, including possible loss of value.