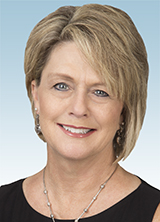 Morristown, TN —Jessica L. Rich has joined HomeTrust Bank as Vice President and Morristown County Executive. She is responsible for the commercial strategic direction in the Morristown and Lakeway communities with a strong focus on building business relationships.
"I'm thrilled to be joining HomeTrust Bank," says Rich. "As a dedicated and lifelong member of the Morristown community, I look forward to working with a bank that's focused on providing unique financial solutions for our local businesses that will help them prosper."
Rich brings over 25 years of banking experience in Tennessee, most recently as Vice President SBA, Business Development Officer for United Community Bank. She was responsible for loan production and business development for Eastern Tennessee and Western North Carolina. Before that, she was Senior Vice President, Commercial Relationships Manager and Lender at Civis Bank where she opened a loan production office in Knoxville, TN that was focused on commercial and small business loan origination.
"Jessica's strong background and experience in a variety of leadership roles in the Knoxville and Morristown banking community make her a perfect fit for HomeTrust Bank," says Trey Coleman, Senior Vice President, Regional President. "She grew up in Morristown, lived here most of her life, and has been an active member of this community. Jessica understands all aspects of community banking from commercial lending to retail banking and mortgages while also uniquely understanding what makes Morristown and the Lakeway area so special. We're lucky to have her."
Rich will work from HomeTrust's location on Evans Ave in Morristown. She attended Walter State Community College while also being a graduate of Tennessee School of Banking. Rich is married with two daughters and three grandchildren. She is very active in the Morristown community and serves as the current treasurer and past president of the Morristown Rotary A.M., a member of the finance committee for the Morristown Area Chamber of Commerce and executive director and treasurer of the board for Girls, Inc.
About HomeTrust Bank
HomeTrust Bank, founded in 1926, is a North Carolina chartered, community-focused financial institution committed to providing value-added community banking through online/mobile channels and more than 40 locations in Southwest Virginia, North Carolina, Upstate South Carolina, and East Tennessee. The Bank is the 2nd largest community bank headquartered in North Carolina. As of June 30, 2020, the Company had assets of $3.7 billion. Learn more at htb.com.