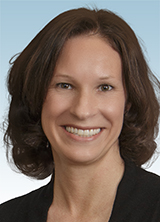 Shelby, NC — Kelli D. Steele has been promoted to Assistant Vice President and Branch Manager in Shelby, NC.  She is responsible for day-to-day branch operations, including encouraging, developing, and mentoring her retail team while driving branch performance to meet sales and service goals.
"Working for HomeTrust Bank provided me the opportunity to serve the community I grew up in, the community that I love," says Steele. "Day after day, my customers and teammates motivate me to provide the best customer service combined with exceptional support for my team."
Steele began her career at HomeTrust Bank 14 years ago, and she has continued to grow and develop into a strong banker.
"I'm thrilled that Kelli has been promoted to Branch Manager in Shelby," says Bria Davis, Vice President and Retail Market Leader. "Her deep understanding of the unique needs of our Shelby customers paired with her continued growth and development at HomeTrust Bank make her a perfect fit. I look forward to working with her as we continue to provide excellent customer service."
Steele graduated Magna Cum Laude from UNC Charlotte where she received a bachelor's degree in Economics. She is happily married with two daughters that keep her very busy at the soccer fields and dance studios when she isn't working. Steele is a member of First Baptist Church in Shelby and teaches ballet classes at the Academy of Performing Arts.