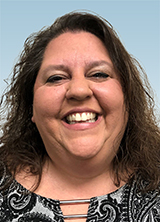 Kingsport, TN — Lisa Ketron joins HomeTrust Bank as an Assistant Vice President and Branch Manager in Kingsport, TN.  She is responsible for coaching and developing the retail team, building community outreach, and driving growth.
"HomeTrust Bank's continued growth and focus in the Tri-Cities is what drew me here," says Ketron. "I am excited to share my ideas and collaborate with the fantastic team in Kingsport."
Prior to HomeTrust Bank, Ketron worked for First Horizon Bank as a Financial Service Representative and was promoted to a Banking Center Manager. She holds a Life and Health Insurance License and sold or referred over $1 Million a year in investments.
"Lisa's years of banking experience paired with her natural ability to lead, make her a great fit for the Kingsport team," says Christina Lewis, Vice President and Retail Market Leader. "Her focus on community outreach will support our continued growth in Tennessee, and I look forward to working with her as she continues to build her team that's focused on client needs."
Ketron graduated with a bachelor's degree in accounting from the University of Virginia's College at Wise. She is married with a daughter. When Ketron is away from work, she enjoys ocean fishing and camping with her family and three Australian Shepherds.