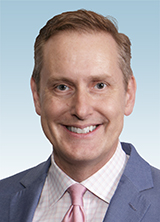 Johnson City, TN — Mick Catron has joined HomeTrust Bank as an Assistant Vice President and Branch Manager in Johnson City, TN.  He is responsible leading, coaching, and developing his retail team; attracting new business; and expanding existing customer relationships.
"HomeTrust Bank is an attractive place to work because of the culture and dedication the Bank has to serving the Johnson City community," says Catron. "I believe in a truly customer-centric approach, and I'm excited to continue providing unique strategies to ensure my clients are reaching their financial success."
Prior to joining HomeTrust, Catron served as the Senior Customer Experience Officer for the Bank of Tennessee where he managed the day-to-day operations while coaching and developing his team. He also worked at First Horizon Bank as a Financial Center Manager.
"I'm thrilled to have Mick leading our Johnson City retail team," says Christina Lewis, Vice President and Retail Market Leader. "His experience coaching and developing retail teams combined with his dedication to the customer experience, make him a perfect fit. I look forward to working with him as we continue to develop our customer-first mindset."
Catron graduated with a bachelor's degree in Business Management from Emory and Henry College. Additionally, he enjoys traveling and exploring new places.