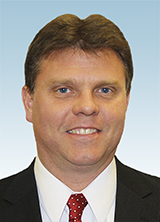 Hendersonville, NC — Mike Fischer has been appointed to Assistant Vice President and Mortgage Loan Officer in Hendersonville, NC.  He is responsible for originating mortgage loans; working with customers to identify the best products to meet their needs; and working with customer, realtors, and builders to facilitate processing a mortgage loan to closing.
"I love working for HomeTrust Bank and have spent my entire career employed by community banks," says Fischer. "We are the perfect size. Big enough to have a strong capital base but small enough to engage with the borrower on a very personal level to ensure our services are meeting their unique needs."
"It's wonderful having Mike on our mortgage lending team," says Franci Gasperson, Vice President and Lending Manager. "He's focused on the needs of the customer and ensures they receive the best service. Mike also sees the value of a community bank that's focused on serving the people we work, live, and interact with every day."
Fischer graduated from the University of North Carolina at Asheville where he received a bachelor's degree in finance. He is married with four children. Fischer has served as a cub scout den leader and coached youth sports for many years. He is also a member of his Property Owners Association. Fisher is based at the Hendersonville branch.