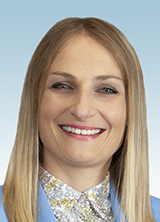 Asheville, NC—Natasha Neuenschwander was promoted to Associate Branch Manager at HomeTrust Bank's East Asheville and Arden locations. She is responsible for overseeing daily operations of both branches and assisting customers with consumer loans.
"I joined HomeTrust Bank in 2017 as a Sales and Service Associate, and I'm so thankful for the opportunity to expand in my career," says Neuenschwander. "I feel lucky to be a part of such a great community bank and have the opportunity to work with such inspiring people."
Neuenschwander served as a Teller and Sales and Service Associate at HomeTrust Bank before accepting her new position as Associate Branch Manager.
"Natasha is a true leader and seeing her development from Teller and Sales and Service Associate to an Associate Branch Manager has been remarkable," says Kelly Hannah, Branch Manager at East Asheville and Arden locations. "I look forward to watching her as she builds her team and continues to cultivate the customer experience in her branches."
Neuenschwander graduated with a bachelor's degree from the University of Macedonia. Outside of work, Neuenschwander is married with one daughter. She is involved with the Women of Waynesville and is a member of Biltmore Church.