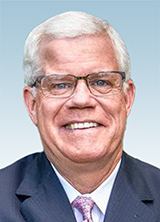 Asheville, NC—Robert C. "Bob" Beggs has joined HomeTrust Bank as a Senior Vice President and Middle Market Relationship Manager, primarily covering the greater Charlotte area. He holds responsibility for developing and managing new, full-service commercial relationships.
"I am thrilled to join the HomeTrust team," says Beggs. "I look forward to helping the bank grow its middle market program in the Carolinas and ensure that our clients receive the absolute best service that is focused on improving their bottom line, increasing cash flow, and easing day-to-day financial operational burdens."
Beggs brings decades of banking experience to his new position. Prior to HomeTrust, he served as the Senior Vice President, Middle Market Relationship Manager at Woodforest National Bank where he helped start the Charlotte Loan Production Office and grow that bank's commercial lending footprint outside its headquarters in Houston, TX. Before that he was a Senior Vice President, Commercial Relationship Manager at Bank of North Carolina and a Commercial Relationship Manager at Wells Fargo.
"Bob's proven success in the Carolinas makes him the perfect person to lead our continued expansion into the middle market," says Mark DeMarcus, Executive Vice President, Commercial Banking Group Executive. "I look forward to collaborating with Bob as we focus on growing our footprint in the Charlotte area while providing excellent service to our clients."
Beggs will work from HomeTrust's Queens Road location in Charlotte. He graduated from the University of Georgia with a Bachelor of Science in Chemistry and Biochemistry and earned a Master of Business Administration in Finance and Marketing from the Florida State University. Beggs is married with two grown children and lives in Charlotte. He's an avid cyclist and serves as an ambassador for a local Trek bicycle shop, enjoys traveling and cooking, and is passionate about his three rescue dogs. Beggs volunteers with the Charlotte Heart Association, Habitat for Humanity, and was a past president at the North Carolina Lung Association. He also served in the U.S. Air Force as a Chemical Research Officer.