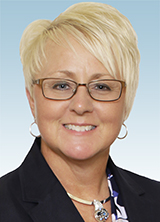 Martinsville, VA—Ruthann Hodges has joined HomeTrust Bank as Assistant Vice President and Branch Manager at the bank's Martinsville office. She is responsible for ensuring that customers receive excellent service and products by coaching and growing the HomeTrust Bank branch team and the bank's partners. Her goal is to help HomeTrust become the bank of choice through commitment, dedication to the community, and developing long-term satisfied customers.
"I am excited to be back home in Martinsville and am grateful for the opportunity to return here. Hands down, the reason I want to be a part of this team is that HomeTrust is a community-focused financial institution with a commitment to treating people with the same care we want for ourselves," says Hodges.
Hodges spent the past decade with First Citizens Bank before coming to HomeTrust. She was branch manager in both Eden, NC and Madison, NC. For the last three years of her employment there she worked with 401K plans in the Institutional Wealth Department in Greensboro, NC.
"We are so pleased that Ruthann agreed to come back home to Martinsville to join the HomeTrust team. Her talent and excitement to help our customers with their financial needs is palpable," says Bridget French, Retail Market Leader, Northern Piedmont/Dan River Region. "Her banking skills and style are a great fit for the Martinsville branch office and our valued customers."
Hodges graduated from Carlisle School in Martinsville in 1987 and has an Associate Degree in Business Administration from Patrick Henry Community College. Outside of work, Hodges enjoys spending time with her family, and spends most weekends on the sidelines of a baseball field!