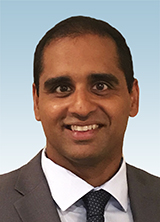 Raleigh, NC — Sanjay Mishra serves as a Vice President and Small Business Administration (SBA) Relationship Manager where he is a national SBA originator with an emphasis in North and South Carolina. In his first year with HomeTrust, he closed a substantial $25,250,000 in SBA loans.
"HomeTrust is beyond proud of the work Sanjay has done to support small business owners by helping them achieve their financial dreams," says Christopher McFatter, Senior Vice President and Director of SBA Lending. "We're honored to celebrate his first year with us and look forward to many more."
Mishra has worked extensively in the Triangle since 2017. He also received a master's degree in Business Administration from American University's Kogod School of Business. Mishra also graduated from Coastal Carolina University's Wall College of Business with a bachelor's degree in Business Administration and Management. He is currently in his final year of the North Carolina School of Banking program.