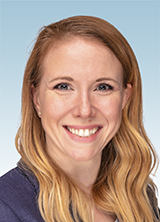 Roanoke, VA — Sarah-Lynn Miller joins HomeTrust Bank as an Assistant Vice President, Senior Licensed Professional Banker and joins Infinex Financial Group as a Registered Representative in the Roanoke, VA and Raleigh, NC regions. She will serve as a Relationship Manager to professional banking clients; provide financial advice for clients focused on budgeting, credit, and long-term planning; and connect clients with other partners throughout HomeTrust Bank to ensure their financial goals are being met.
"I am excited to join a team of committed and intelligent individuals that are focused on providing the best quality service to our clients," says Miller. "HomeTrust and Infinex are dedicated to placing the client at the center of everything they do, and I will be focused on delivering that promise."
Prior to her new role, Miller was as a Premier Banker at Wells Fargo in Roanoke, VA where her main responsibility was to serve as a Relationship Manager for clients with complex financial needs. Additionally, she served as a Registered Client Associate at Merrill Lynch.
"We are so lucky to have Sarah joining our team," says Susan Puryear, Vice President and Director of Professional Banking and Investment Services at HomeTrust Bank. "She brings a unique set of skills that allows her the opportunity to provide professional banking services to clients while also being a Registered Representative with Infinex Financial Group where she can help clients plan for the future through focused support on budgeting and long-term planning. Her customer-centric approach paired with her years of banking experience make her a perfect fit."
Miller will work from HomeTrust's Electric Rd. location in Roanoke, VA. She graduated from Hollins University and received a B.A. in Mathematics and Business. She is married with one daughter and enjoys running, knitting, sewing, and embroidering. Additionally, Miller works with the non-profit program, Bank On in the Roanoke Valley, including their financial empowerment centers. She also spends time volunteering at the Virginia Harm Reduction Coalition.
About Infinex Financial Group
In 2018, Infinex celebrated its 25th anniversary as an independent broker/dealer focused on serving the investment, insurance and wealth management needs of financial institutions. Currently, Infinex supports over 230 community-based programs and more than 800 representatives. The firm, headquartered in Meriden, Conn., with offices in Napa, Calif., and Midlothian, Va., has a unique history of being formed by financial institutions and owned by financial institutions. To learn more about Infinex Financial group, visit www.infinexgroup.com
Investment and insurance products and services are offered through INFINEX INVESTMENTS, INC. Member FINRA/SIPC. HomeTrust Investment Services is a trade name of HomeTrust Bank. Infinex and HomeTrust are not affiliated. Products and services made available through Infinex are not insured by the FDIC or any other agency of the United States and are not deposits or obligations of guaranteed or insured by any back or bank affiliate. These products are subject to investment risk, including possible loss of value.