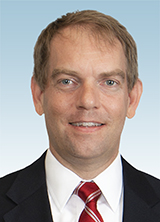 Asheville, NC—Steven Rekers has joined HomeTrust Bank as Senior Vice President and Chief Accounting Officer. He holds responsibility for leading the company's accounting department in developing process efficiencies to support growth and utilizing technology in implementation of accounting systems.
"I am honored to join such a great group of community bankers with exceptional depth of experience in our markets," says Rekers. "HomeTrust has a strong reputation in the communities that it serves. I look forward to working with an organization focused on providing customers the digital products and services they can find at larger banks, but with a more personal touch and community focus. I'm excited to use my experience to help support the growth of the Bank."
Rekers brings two decades of experience to his new position. Prior to HomeTrust, he served as Senior Vice President, Finance Manager at South State Bank in Columbia, SC where he was responsible for SEC and regulatory reporting, hired and built the process to support the accounting for FDIC assisted transactions and whole-bank acquisitions, and led interdepartmental teams to adopt new accounting standards. Additionally, he provided audit and assurance services while working at Bauknight Pietras & Stormer, P.A., an accounting and advisory firm in Columbia, SC.
"We're excited to have Steven joining our accounting and finance team," says Tony VunCannon, Executive Vice President, Chief Financial Officer and Treasurer. "His previous long-term experience at a high growth commercial bank will be a huge asset to us as we navigate through growth and higher performance."
Rekers will work from HomeTrust's downtown Asheville location. He received his MBA from Winthrop University and graduated from the University of South Carolina's Moore School of Business with a BS in Business Administration and Accounting. Rekers is married with four children and enjoys traveling and hiking with his family. He is also a member of the American Institute of CPAs.
About HomeTrust Bank
HomeTrust Bank, founded in 1926, is a North Carolina chartered, community-focused financial institution committed to providing value-added community banking through online/mobile channels and more than 40 locations in Southwest Virginia, North Carolina, Upstate South Carolina, and East Tennessee. The Bank is the 2nd largest community bank headquartered in North Carolina. As of September 30, 2020, the Company had assets of $3.7 billion. Learn more at www.htb.com.