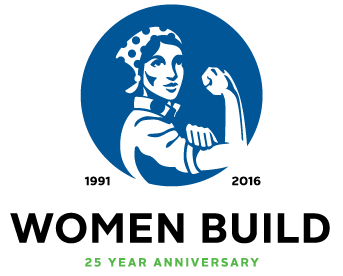 Charlotte, NC – A seven-woman team of mortgage bankers from Charlotte's HomeTrust Bank will trade computers and office attire for hammers and hard hats on Thursday, June 9, during Habitat for Humanity's Women Build Work Day.
Their Adopt-a-Day sponsorship helps mark the 25th anniversary of Women Build, which began in Charlotte in 1991 and has built more than 2,400 homes around the world with all-female volunteer construction crews. Many of the women have no prior construction experience, but look forward to sharing the excitement of first-time homeownership. The Charlotte HomeTrust Bank's Women Build team includes Sallie Jarosz, Pam Gavurnik, Cynthia Moore, Ginny Shalati, Erica Hernandez, Lindsay Johnston and Kristin Powell.
"I have NO building experience but I have always admired the work that Habitat has done since the 1980s," says Ginny Shalati, a HomeTrust Bank sales and service associate since 2007 who will be working on June 9."I like the fact that this is a hand up to families and not a hand out. It will be very rewarding to know that I helped someone get a nice home."
Another construction novice, commercial banker Pam Gavurnik, says pride in home ownership is driving her efforts, "I'll be helping make a dream come true for someone wanting own a home."
The upcoming women homeowners themselves will be contributing 300 hours of labor, part of Habitat for Humanity's sweat equity requirement. Work in this year's five-home Habitat for Humanity's Women Build efforts in Charlotte began May 6 and continues through early July. The HomeTrust Bank team goes to work on June 9 to install drywall on the homes.
To learn more about Habitat Charlotte's Women Build and how you can get involved, visit their website.